EDIT MAIN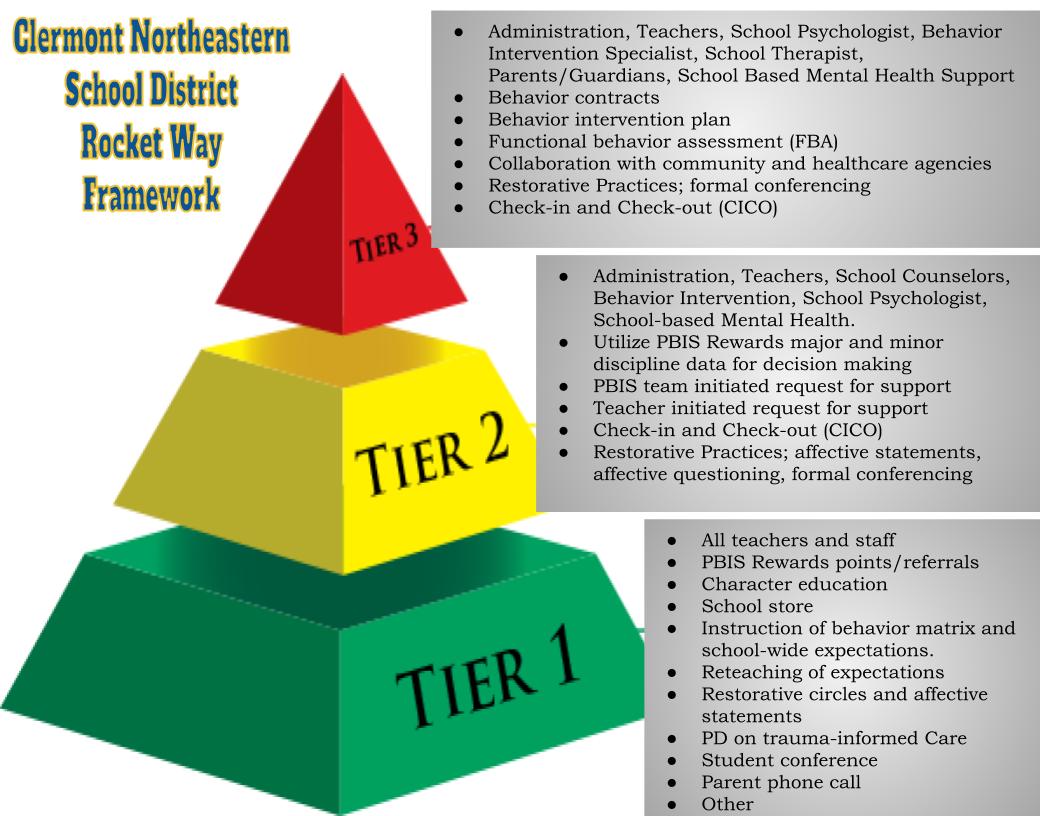 Clermont Northeastern began the implementation of the PBIS (Positive Behavior Intervention and Support) initiative in 2014. The purpose of the PBIS initiative is to establish a consistent and effective positive learning environment for all our students at Clermont Northeastern Schools. This framework is a school-wide program that is designed to improve the overall academics and behavior of the school environment. It is a system in place to promote positive success within the school community through expectations, procedures, and focusing on positive behaviors; while responding to problems based on a child's needs.
This effort has been, and always will be, a combined effort amongst our school community. Together we can create the same expectations and language used with the students, bridging the path for our students' educational paths. It will be known as THE ROCKET WAY.
The Rocket Way focuses on Targeted behaviors for success. We expect the Students to demonstrate the appropriate behaviors. Teachers are also expected to correct any behavior errors.
As a part of the Rocket Way, when students demonstrate a target behavior (examples from the matrix), they can be rewarded with a point(s) on the PBIS Rewards App (see PBIS Rewards Instructions.) Points can be spent in The Rocket Way Stores in each building. Points may also be used to gain entry into events set up by each building.
Teacher expectation is to document behavior errors in PBIS Rewards for data tracking and student interventions. The data is required for teams to make evidence-based decision making on the implementation of targeted interventions. Minors behaviors are described as classroom/teacher managed behaviors. Major behaviors are described as Office/Principal managed behaviors.