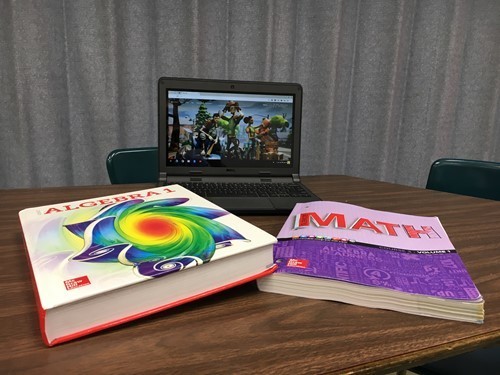 CNE changes help improve academics, security
Dick Maloney
Thursday, November 29, 2018
CNE changes help improve academics, security
By Dick Maloney
Clermont Northeastern Schools
If you stand at the corner of U.S. 50 and Newtonsville-Hutchinson Road and look at the Clermont Northeastern School District's three main buildings there, you may not notice the changes immediately.
Inside the walls and beneath the roofs, however, the environment is changing – starting with those roofs.
By the end of September (weather permitting), three of the district's buildings – the high school, elementary school, and the preschool on South Broadway, will have new roofing. The wet summer has delayed work and caused a modified work schedule.
"We're working with the contractors to come up with a different work schedule, starting at 5 in the morning with tearoffs, which is noisy, and then when kids come, stopping with that and covering back up. So it looks like we're a month away, total. So that's taking us longer, but everyone has acknowledged it's been the wettest summer in forever," Superintendent Michael Brandt, whose office is in the middle school, said.
"I think what we're looking for is a tone to alert the parents that while there are construction issues with the weather and whatever, our main issue is safety, and working conditions for everybody, the students and teachers, so we've tried to cut back on the odor and doing things, but it's just been a difficult process with the weather putting us so far behind."
The roofs, and the construction cones, flags, tapes and other equipment, are the most visible sign of progress. What's unseen is just as important.
This year, the district has completed the transition to its one-to-one Chromebooks plan. Each student and faculty member has a Chromebook laptop computer, paid for the district. Each classroom also has new textbooks.
Brandt said the Chromebook initiative should "vastly improve our academic performance over time," including better preparing students for academic testing, which is now done online.
"We've contracted with Hamilton County Educational Service Center to provide in-service training for all teachers on a continuous basis in order to get the most out of the one-to-one," Brandt, who is in his fourth year at CNE, said. "It takes more training than just handing them a computer. They have to know where to go, what web sites, what standards are being taught against, so all that's being done, so we've started the training process with everybody. We've bought all new textbooks across the district which are up to date now with all of the standards, which is a huge improvement for us, so we feel really good about that."
District technology director Andy Seals said in the past, teachers had to reserve Chromebook carts days or weeks in advance.
"If we were doing AIR (state) testing or other online assessments, the teachers were out of luck. With 1:1, teachers have the freedom to use the devices when and how they need to improve instruction," Seals said. "All of our new textbooks came with online components that are Chromebook compatible. So students will be able to utilize those resources any time they need them."
High school Principal T.J. Glassmeyer said the upgrades will help faculty and staff prepare students for their post-high school world.
"We are incredibly happy with the investments the district has made at the high school," Glassmeyer said.
"The new textbooks allow our students to have the most up to date, relevant and rigorous curriculum available.
"By providing each high school student with a Chromebook we are able to impart 21st Century skills and train our students to be college and career ready. Through the Chromebook use our students are able to expand their learning and deepen their knowledge."
The textbooks include a digital component, which makes the Chromebooks that much more important, Brandt said.
"The way you buy textbooks now is you buy hard copies, but then you buy the digital, so we got all six-year contracts starting this year, so that will make a major difference in what the kids are being taught, and therefore what they're going to be tested on will be something relevant that they've seen before and not just teachers just sort of playing darts with the standards," he said.
Laura Nazzarine, the principal at the middle school, will benefit CNE students in their core classes – English language arts, math, science and social studies.
"We are so excited to have researched based resources, lessons linked to standards and aligned assessments in all of our core classes," Nazzarine said. "Our staff is very appreciative of our superintendent and the board of education's support as we utilize these resources and move to 1:1 technology. Our students love working with these interactive resources that are online as well as their consumable textbooks. These materials will help us meet our goal to challenge our CNE MS Rockets and create lifelong learners."
The good news for taxpayers and others is that the district is implementing these plans without having to go to voters for more money. All of the costs are being paid from the permanent improvement fund, which is money that comes from the state of Ohio based on student enrollment, and is offset by local property taxes and other revenues. The roofing projects cost $3.4 million; the Chromebooks about $200,000, The district is taking out a $6 million loan over 10 years that will be paid back out permanent improvement funds, Brandt said.
"We've been a really good steward of the taxpayers dollars, and we've been saving for several years wherever possible, and we've made these investment as a way to help our achievement level," Brandt said. "All of our contracts are for six years, so we're good for six years out. What we'll start doing this year is putting a small amount of money in savings, so when we need to replenish, whoever the superintendent, me or somebody else at that time, will have a pot of money to go to. But we don't have any intention of asking taxpayers for any new money."
Brandt said the board has also eliminated all parental academic fees.
Parents can be assured that the district is doing everything it can to keep students safe. While Brandt said he couldn't discuss many details of the new security procedures, he mentioned new cameras, reworked doors and an alarm system that uses new key cards for all staff.
"We have doubled the number of cameras in the district. All of the doors in the buildings are now monitored and will notify administrators if someone is coming/going without permission. This allows us to keep track of who is coming and going," Seals said. "I remember a few years ago a fence jumper was able to bypass the muti-million dollar security and walk into the White House. He was able to do this because the front door was unlocked. The first step in security is to lock the door."
Brandt said the district has also hired a fulltime dedicated resource officer (Ryan Patton, from the Clermont County Sheriff's Office).
"That's a big deal for us. Someone with a great deal of experience, and we're really thrilled to have a sheriff's department presence here all day every day," Brandt said.
CNE, in partnership with the community, will provide students with the skills and exploratory experiences that enable them to reach their fullest potential. To accomplish this, the CNE staff will:
- Strive to make children confident and creative builders of their future.
- Research, design, and provide the best academic program and learning environment possible for students.
Schools in the CNE District include Clermont Northeastern High School, Clermont Northeastern Middle School, Clermont Northeastern Elementary School and Clermont Northeastern Preschool.