Schedule Additions Thursday 3/21/2019: JV Boys Baseball at CNE vs Turpin 430pm Varsity Boys Baseball @ Turpin 430pm

Schedule Update: 3/15 JV and Varsity Boys baseball vs Landmark is cancelled today.
Due to a power outage on campus, CNE will be closed today. (Friday 3/15/19)
Dear CNE Parent/Guardian, We are working on improving your overall communication experience with us at Clermont Northeastern Local Schools. One tool we will use will allow us to streamline your annual forms by going paperless. Please take a few moments to fill out the form below. We need your student(s) full name. Please fill a line for each child. (If you have more than five children, please fill out an additional form.) Please add your name and email address as well as the name and email address of any additional parent or guardian. Any additional custody concerns can be explained in greater detail at the end of the form. Some of this information may appear to be repetitive but we need to be sure we have accurate information during our transition. In the upcoming weeks, you will receive an email notification to complete your forms online. Thanks for your time and understanding. Please use the following link to complete the google form.
http://bit.ly/2Bx0iYO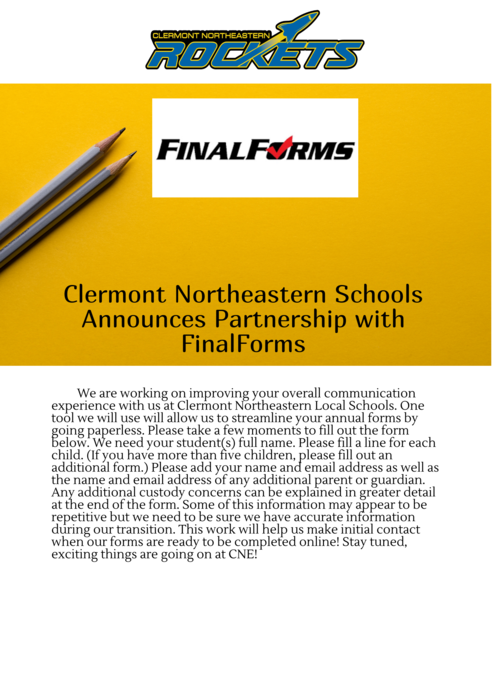 CNE Schools will be closed on Friday, February 8th out of respect for Deputy Bill Brewer. We encourage all those able to line the procession route for Deputy Brewer to show our respect and appreciation for his service and sacrifice.
Make-up sign up night for Spring CNEAA sports is February 13th, 6pm to 8pm at the Elementary Cafeteria.
Due to changing road conditions CNE will now be CLOSED Friday February 1st.
CNE will be on a 2 hour delay for Friday 2/1. No AM Preschool.
CNE Schools will be closed on Thursday, January 31st due to the predicted frigid temperatures.
CNE Schools will be closed on Wednesday, January 30th due to the predicted frigid temperatures.
Update: Due to road conditions, CNE will be CLOSED today. (Thursday 1/24/19)
CNE will be on a 2 hour delay today, 1/24/19. There will be no AM Preschool.
Congratulations to the 26 adults who received their high school diplomas at last night's 22+ Adult Diploma Program Graduation! If you did not finish high school it can be easier than you think to earn your diploma. Visit
https://bit.ly/2Ht4IWd
for more information.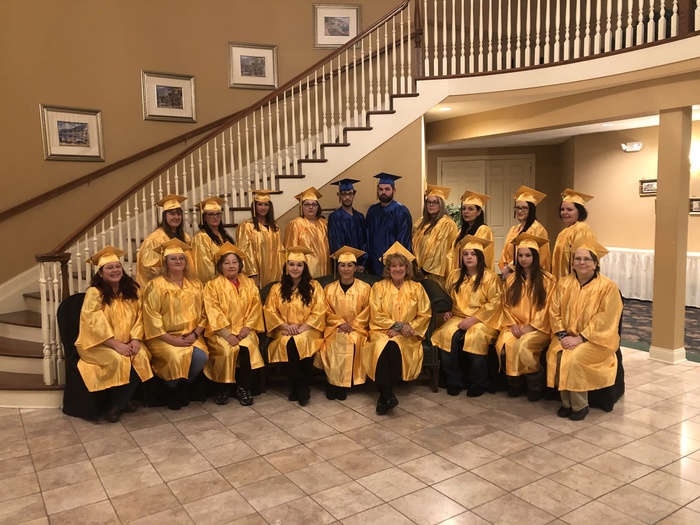 The CNE Board of Education held its organizational meeting on January 14, 2019.  Mr. Dave Pennington was elected president and Mrs. Karen Crawford vice president.  The regular monthly meetings will be the third Thursday of each month. The first meeting is this Thursday, 1/17.
All activities scheduled for Saturday, January 12th are canceled due to the predicted winter weather.
CNE ES Weekly Update: Spirit Week- 12/17 Dress like what you want to be when you grow up; 12/18 Dress in Summer or Winter outfits; 12/19 Dress like a snowman; 12/20 Dress in festive clothing. 12/20 December Rocketeer assembly. Winter Break begins 12/21/18
Clermont Northeastern evacuated the preschool building this afternoon 12-13-18 at 240pm . Child Focus who is in our preschool building with Headstart and Wassermann center received an email bomb threat at their main building. Out of precaution all buildings housing Child Focus were told to evacuate. The preschool classes were moved out of the building and were dismissed at regular time. The police cleared the building for reentry at 310 Again the bomb threat was not directed at the preschool building but at Child Focus building elsewhere. All students were safe and warm while waiting for dismissal. They even had their afternoon snack.
CNE will be on a 2 hour delay for Tuesday 11/27. No AM Preschool. Calls on the way.

Senior Citizen's Luncheon is 12/5 at 11:00 am. Call 513-625-1211 ext 319 for reservation.